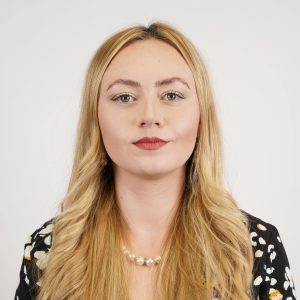 Jessica Khelifi
Paralegal
Wills, Trusts & Probate
My Approach
My primary role is to assist Andy Kirby (Private Client Consultant), Theresa Mills (Associate Solicitor) and Katy Sewell (Associate Solicitor) in the Wills, Trusts and Probate Department. I deal mainly with the drafting of legal documents for Wills, LPAs, Trusts and Tax matters. I will often liaise with clients in order to further their matter and will meet them face to face during meetings and document signings. I have a professional and methodical approach to my work. Whilst doing my utmost to provide practical, empathetic and emotional support I am able to build trusting and attentive relationship with clients.
Areas of Expertise
Lasting Powers of Attorney
Declarations of Trust
Simple Wills
Complex Wills with Lifetime Gifts and Discretionary Trusts
Assisting with complex Tax and Trust Matters.
My Route to Ellis Jones
I successfully completed a Bachelors Degree in Law at Bournemouth University in 2019 and I am currently studying at the University of Law to complete the Legal Practice Course and to obtain a Masters in Legal Practice. I started working within the legal sector in 2015 and have been able gain a breadth of experience working for various firms and legal organisations in different areas of law. I feel extremely accomplished to be working as a Paralegal for such a reputable firm placed within the top 200 UK law firms and to be working amongst such a vast array of experienced and reputable legal professionals which will influence my work methods for the future.
Professional Associations & Qualifications
LLB (Hons) Law Degree from the University of Bournemouth
LLM in Legal Professional Practice from The University of Law, London
LPC from The University of Law, London
Paralegal Practice Cert
Advanced Diploma in UK Employment Law and GDPR
Advanced Diploma in Contract Law and Consumer Protection Law
Advanced Diploma in Medical Law and Ethics
Diploma in Bioethics: The Law, Medicine and Ethics of Reproductive Technologies and Genetics.
Diploma in Cybersecurity for Lawyers