MSP Volleyball Championships 2023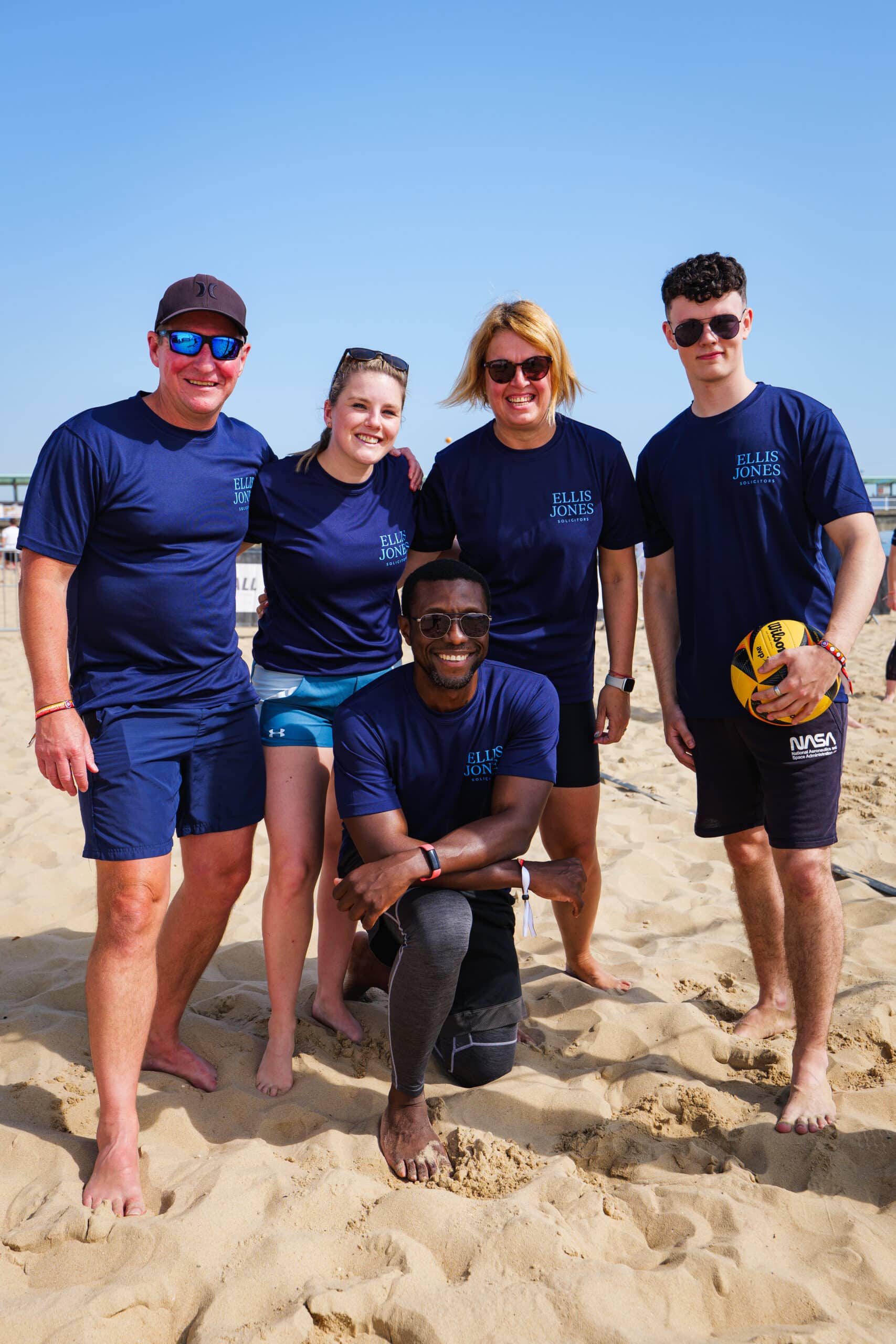 Sun, sand and sea breezes were the backdrop to this year's MSP Volleyball Championships. After the success of last year's inaugural championship, MSP wanted bigger and better for the 2023 competition and they did not disappoint! With 22 teams from local business battling it out, plenty of music, drinks, hot food and grandstand seating this is was an event not to be missed.
On the 7th September 2023, a team of 6 from Ellis Jones descended onto Bournemouth Beach to take part in the 6 vs 6 tournament. In total, 22 companies and organisations came together for the afternoon, playing in fast-paced 'ten-minute' pools which eventually whittled down to the final match to decide the victors. Deep Dish, a specialist beach volleyball training provider, supported MSP helping to organise and coordinate the tournament, providing the commentary and referees for all matches.
Our team; Wayne Spolander, Asya Panchalieva, Ola Olayinka, Kate Brooks, Jacob Hanney and Beth Morris, played in Pool D against 5 other companies. Making full use of the Deep Dish Volleyball training sessions held over the summer, we played a total of 15 matches, coming out victorious in the pool stage and securing our spot in the quarter finals.
However, a last-minute injury meant that we had to seek support from other teams for our quarter-final match. Thankfully, we gained a wonderful team player from Lester Aldridge to make up our numbers. We fought a nail-biting quarter final to come out on top; it went right down to the final few points and minutes of the game. Unfortunately, the semi-final would see the end of our winning streak, as we lost the game to the eventual tournament winners (who were also last years champions as well). This did not dampen our spirits though and the whole crowd got behind the teams in the final.
This fantastic event was not just about the sunshine or volleyball, but to support local Dorset charities as part of MSP Capital's community commitment. In total, £15,000 was raised which will be split evenly between Julia's House and Lewis-Manning Hospice Care. Ellis Jones have previously raised money for both of these wonderful causes so we are grateful and proud to have been able to show our support once more.
If you would like to see more photographs of the event, you can view them here.
How can we help?
When you submit this form an email will be sent to the relevant department who will contact you within 48 hours. If you require urgent advice please call 01202 525333.
Make an enquiry