Ellis Jones' Mock Tribunal 2023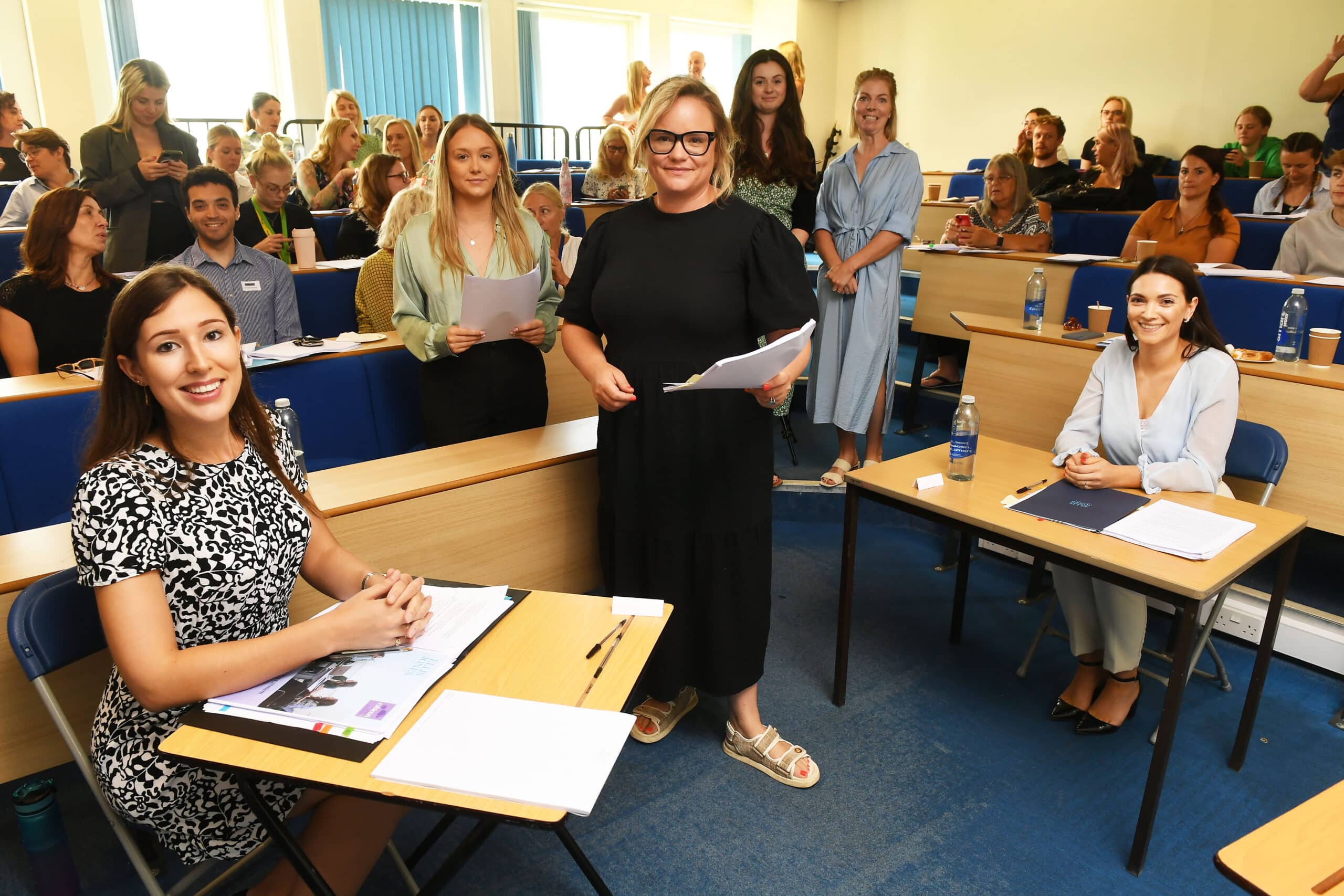 On 21st June 2023, Ellis Jones' Employment Law Department held their popular annual mock tribunal in partnership with Rubicon Recruitment Agency. Bournemouth and Poole College generously let us use one of their lecture rooms for the occasion, and we were very happy to have their HR CIPD groups attend the event.
Our mock tribunal is a helpful introduction to and/or useful reminder of what to expect at a final hearing in the Employment Tribunals
A popular and inaccurate view is that court proceedings largely resonate with what we see on television shows and that all court proceedings are similar. This is not true. In fact, the employment tribunal procedure follows a different structure and different rules to the civil courts of England and Wales, for example.
Our mock tribunal was largely attended by members of our HR Forum. Our head of Employment Law and HR Advice, Kate Brooks hosts a monthly, free to attend HR Forum in partnership with Rubicon Recruitment Agency. The forums are held monthly both remotely and in person. A large number of our attendees work in HR and so use these forums as an opportunity to refresh themselves in terms of proper workplace policy and procedure, updates and developments in employment legislation and to discuss common do's and don'ts in the workplace. Topics covered in each forum vary and are heavily influenced by what our attendees would like to discuss or learn more about. You can see our upcoming list of events here.
Many of our attendees had never been to a final hearing before. Our mock tribunal is therefore an opportunity for an interactive education on what can reasonably be expected at a final hearing in terms of format and procedure.
With myself and my colleague, Rebecca Bennett (an Employment Law solicitor in our team), as mock counsel for the hypothetical respondent and claimant respectively, our mock judge Kate Brooks presided over our hypothetical case. The hypothetical case was one of unfair dismissal where the respondent (hypothetical employer) had not properly followed procedure in terms of investigating the claimant's (hypothetical employee) sickness absence, terminating their employment and carrying out the grievance investigation and appeal. Three hypothetical witnesses were called, including our legal placement student Lucy Barr as the hypothetical claimant in the matter.
As the mock tribunal ensued, Kate Brooks would pause 'proceedings' to discuss aspects with our audience who were given the opportunity to raise queries about the cross examination of the witnesses and the ultimate hypothetical ruling. Whilst this is not reminiscent of what would actually occur in an Employment Tribunal Final Hearing, for academic purposes this presented an opportunity to address any queries about procedure and/or tribunal considerations.
We very much look forward to hosting next year's mock tribunal and welcoming any new attendees. Thank you again to all who attended and participated so enthusiastically.
Common Queries and Quick Facts about Employment Tribunal Final Hearings
| | |
| --- | --- |
| How do I address the judge? | Following recent changes, you should address the judge as 'Judge'. |
| Will there be a jury? | No. |
| Can anyone watch my hearing? | If the hearing is open, any member of the public should be able to spectate. |
| Will the judge decide on my case? | Depending on the type of case, your case may be heard by a judge and two panel members. |
| Who are the panel members? | Panel members are not the same as expert witnesses. They assist the tribunal by providing practical and specialised views as one will be drawn from an employer background, and the other from an employee background. |
| Do I need to stand when the Judge enters and exits? | Yes; unless directed otherwise, you should typically stand when the judge enters and exits the room. The judge's clerk will typically give you directions. |
| What can I refer to in my hearing? | If you are a witness in a hearing, you may only refer to a clean version of your witness statement and the bundle of agreed documents when giving evidence. This means that these documents should not be annotated or have any markings or tabs on them. |
If you have any Employment Law queries or concerns and would like our assistance, please do not hesitate to contact us on 01202 525333 or by email at employment@ellisjones.co.uk.
Alternatively, if you would like to be added to our HR Forum community, please contact us on employment@ellisjones.co.uk and we will add you to our mailing list.
How can we help?
When you submit this form an email will be sent to the relevant department who will contact you within 48 hours. If you require urgent advice please call 01202 525333.
Make an enquiry