Countdown begins for Christchurch Music Festival
Festival fever is set to hit Christchurch next weekend when a three-day musical extravaganza is held at the town's quay and we're excited to be the headline sponsor.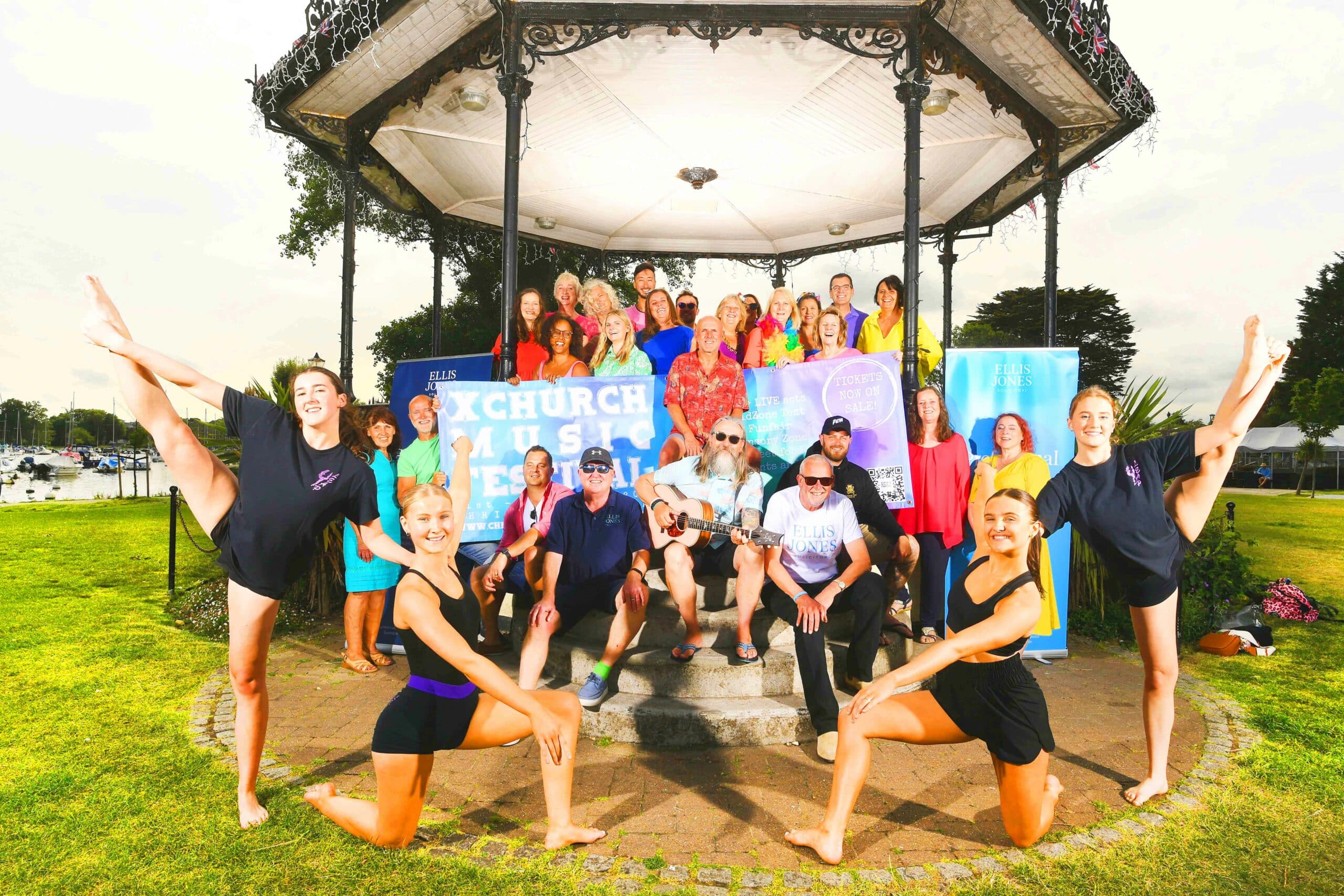 LEAP dance school, The Funky Little Choir and MLC band (pictured) Bands, dancers, singers, organisers and sponsors Ellis Jones Solicitors at the bandstand at Christchurch Quay
The stage is set for the return of the hugely popular Christchurch Music Festival from Friday July 21 to Sunday July 23  with a host of exciting acts lined up for the 'ultimate summer weekend for the whole family'.
It will be the first festival since 2019, and the first organised by Kayleigh Clover, Dave Burns and Jason Giddings and their team from the town's Thomas Tripp pub and Bodega tapas bar.
Our Managing Partner, Nigel Smith said:
"It is brilliant to part of the re-launched Christchurch Music Festival. We like to throw ourselves into all sorts of local causes, events and celebrations, especially those that bring entire communities together like this one. We have plenty of music lovers at Ellis Jones, so we're all excited and looking forward to enjoying the best local artists as well as everything else the festival has to offer."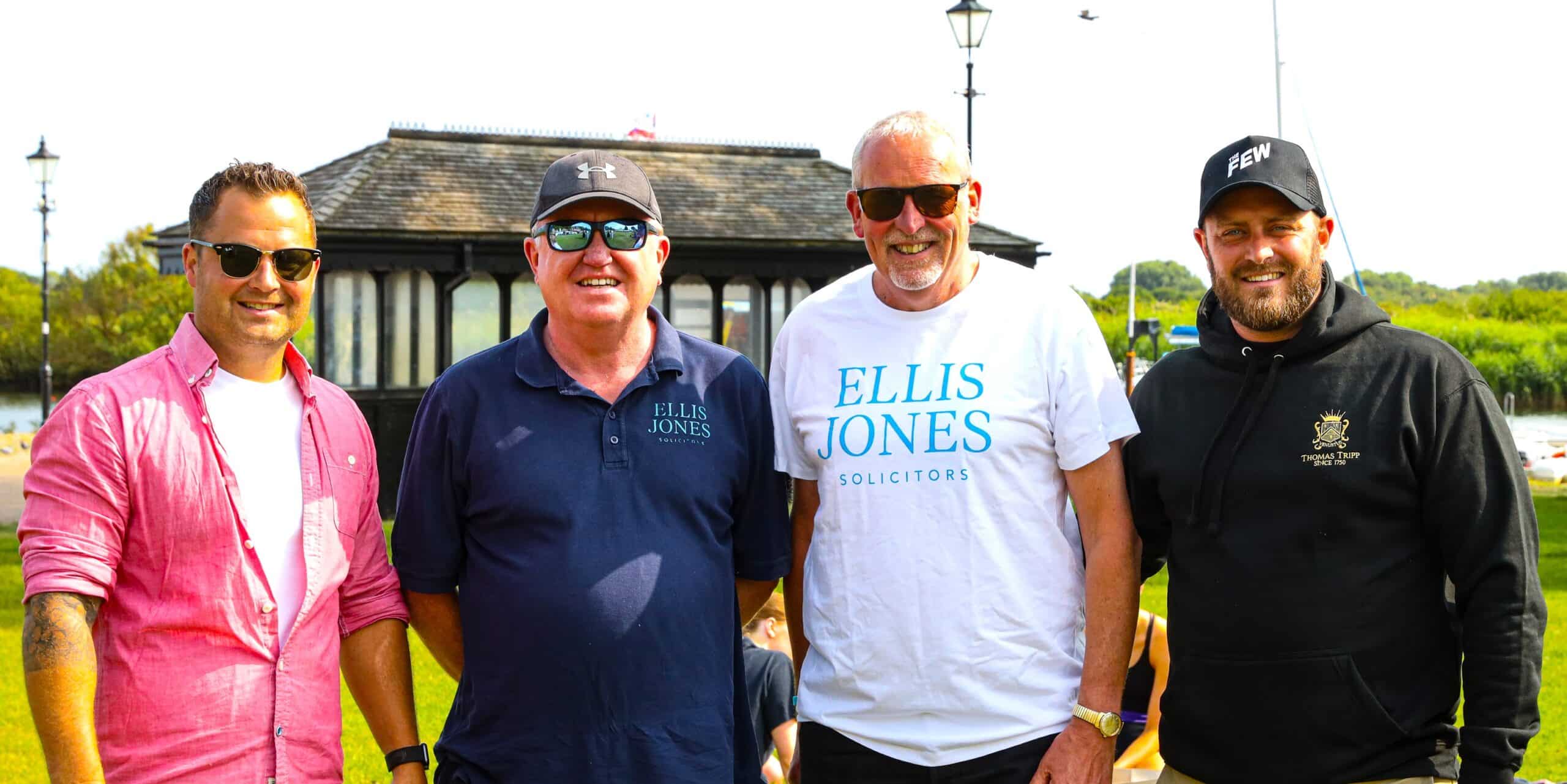 From left: Jason Giddings from the Thomas Tripp pub, Ellis Jones Partner Sean McNally, Ellis Jones Managing Partner Nigel Smith and Dave Burns from the Thomas Tripp pub
The fantastic festival will be held at The Quomps at Christchurch Quay with non-stop music and entertainment from local live music acts, DJs and dancers on two stages.
They will include BB3, Jordan Watts, The Few, Funky Little Choir, Jake Among the Willows, We Are Robot, Oassis, MLC, The Hush Club Disco, Heathen Apostles and Ratrace Ska Band amongst many more.
There will also be dance shows, kids' yoga, circus workshops, a Princess Pavilion, a children's and family entertainer and dance workshops for people of all ages and abilities.
A wide range of local vendors and traders will offer a variety of food and drink, with organisers encouraging them to use biodegradable packaging to support efforts to reduce the festival's carbon footprint.
Co-organiser Dave Burns said: "The festival will be the ultimate summer weekend for the whole family. The venue is stunning and there is a fantastic range of incredibly talented local musicians and acts across many different genres, so there will be something for everyone to enjoy and get dancing to."
Jason added: "We really want this to be a community event with local acts and businesses involved as well as a percentage of ticket sales going towards Helping Homeless Veterans UK, our chosen headline charity for the festival"
We are equally passionate in supporting the armed forces community and recently received the government's Silver Defence Employer Recognition Scheme (ERS) Award for the work that the firm has done, and continues to do, to support defence people both in terms of our staff, our clients and the wider community. This comes just a year after signing the Armed Forces Covenant and the ERS Bronze award.
Find out more on our work in the local community here.
Day and weekend tickets for the Christchurch Music Festival are on sale here.
How can we help?
When you submit this form an email will be sent to the relevant department who will contact you within 48 hours. If you require urgent advice please call 01202 525333.
Make an enquiry