Ellis Jones Wild Work Day with Dorset Wildlife Trust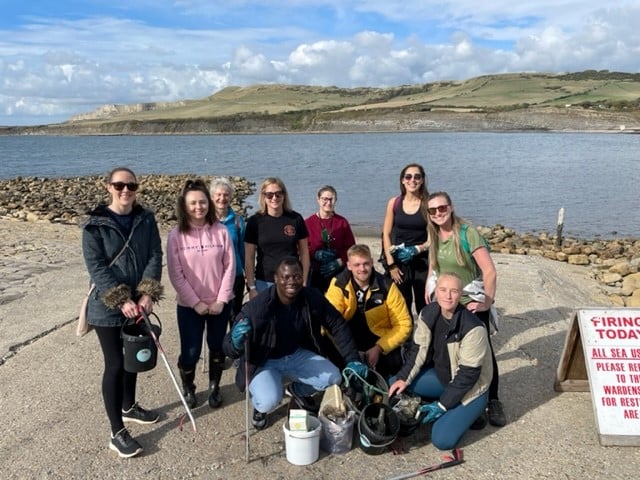 At the end of last year I participated in a 'Wild Work Day'  beach clean at Kimmeridge Bay with Dorset Wildlife Trust. Having come from a background in charity work before starting at Ellis Jones, I had been looking to get involved in any initiatives supporting local charities. Fortunately, there have been many opportunities to support local charities while working at the Firm, including fundraising initiatives and activities, like the beach clean. Ellis Jones values helping the community and give their employees time to support local charities and volunteer organisations.
The beach clean was organised as part of  Ellis Jones' Corporate Partnership with  Dorset Wildlife Trust. Dorset Wildlife Trust is a charity that promotes nature conservation, they protect and connect wildlife sites across the country and inspire communities to appreciate wildlife. It was an incredibly enjoyable and insightful day spent learning about the Jurassic coast and our individual and collective impact on the environment.
As a team we managed to collect over 5 kilos of rubbish on our beach clean. As well as collecting larger pieces of rubbish, we also collected nurdles. Nurdles are small plastic pellets, about the size of a lentil, used in manufacturing to make most of our plastic items. They were very difficult to spot, given their small size! However, we managed to collect enough to fill two small envelopes. We also completed natural habitat surveys and searched for seaweed and rockpool creatures in the rockpools, including peacocks tail seaweed and cushion starfish.
The day provided a welcomed and refreshing break from the 9-5 and a good opportunity to get to know staff working at the firm in different offices. As a Dorset based firm, I feel it is important that we support charities, like Dorset Wildlife Trust, that help to preserve our beautiful Jurassic coast. I feel fortunate enough to work for a firm that allows us to take time to give back to our community.
How can we help?
When you submit this form an email will be sent to the relevant department who will contact you within 48 hours. If you require urgent advice please call 01202 525333.
Make an enquiry